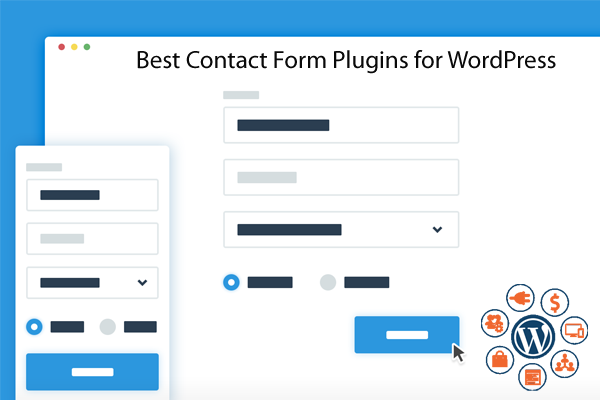 1. Contact Form 7
Simple, flexible and popular, Contact Form 7 has been downloaded nearly 1+ million times by WordPress website users. This contact form plugin lets you customize form fields, appearance, and mail contents. You can create multiple contact forms and insert them on any page or post.
Contact Form 7 supports Ajax-powered submitting, Akismet, and CAPTCHA spam filtering, and is available in multiple languages.
2.Fast Secure Contact Form
This powerful form builder is versatile and easy to use. The Fast Secure Contact Form plugin lets you add, remove, and reorder fields, permits custom field creation, and allows comm enters to send emails automatically. You can also create multiple forms and redirect users to any URL you choose after the message is sent.
Fast Secure Contact Form provides automatic spam comment protection with built-in Akismet and CAPTCHA support.
3. Jetpack Contact Form
If you don't already have Jetpack installed on your website, you may want to consider using this plugin. It offers many of the features built into WordPress.com websites that aren't automatically included for self-hosted WordPress sites – stats, social comments, extra widgets, post sliders, email subscription tools, and much more.
4. Custom Contact Forms
This intuitive and highly customizable plugin, Custom Contact Forms, is packed with features and is extremely user-friendly, giving you all of the benefits of CSS customization without having to know CSS. Most features are drag-and-drop or dropdown menu selections, and there are plenty of options to choose from.
Custom Contact Forms let you:
Customize size, colors, borders, padding, margins, backgrounds, and more for your contact forms.
Add, remove, and rearrange fields, including custom created fields (text, text area, checkbox, and dropdown)—unlimited numbers of fields are permitted.
Create an unlimited number of forms and set a different destination email for each one.
Set required fields and optional fields.
Display forms in pages, posts, and theme files.
Redirect to any URL, including a Jquery form thank you message or a custom thank you page.
Enable CAPTCHA or "Are You Human?" spam comment blocking support.
There are many more features with Custom Contact Forms, including a custom HTML feature for developers to further tweak the design.
5. Slick Contact Forms
A widget-based plugin, Slick Contact Forms is a user-friendly way to create contact forms that stand out. You can design floating forms, drop-down buttons, or sticky sliding tab forms, located anywhere on the page. This plugin also handles multiple forms per page for additional effect.
Slick Contact Forms includes several additional features, such as custom redirects after submission, contact form widget options, short codes, and more.